Managed service providers (MSPs) are becoming more commonplace in every area of the world. Potential customers are becoming more aware of the questions they need to ask their potential partners before making their decision.
Below, you'll find a list of six common questions that, if answered properly, will help you stand out from the competition and give your prospects some peace of mind that they made the right choice.
1. What services do you offer?
Initially, this seems like a straightforward question – you might already have a package bundled together that you're calling "managed services" that breaks down the specific things you deliver. When discussing the prospects' needs, you can fit your service offerings to meet their present needs.
But past that first meeting, how can your services keep up with their company if it evolves?
Set the expectation from the get-go that you'll be there to keep up your service offerings with their expanding needs constantly. Even from the very first meeting, it's not a bad idea to bring up the idea of regular reviews to discuss these needs.
Within CloudRadial, you can use the roadmap/planner functionality to show them that you've got the services listed 24/7 and that you've always got a plan for them.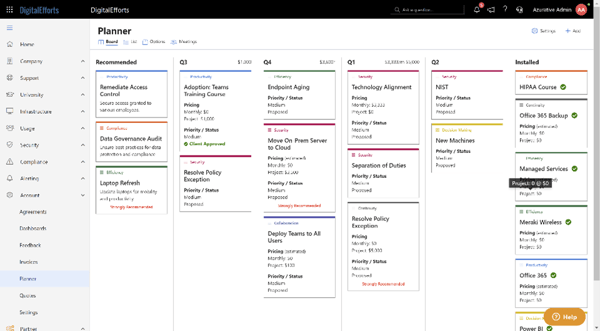 2. What tools or platforms do you use that improve transparency?
The costs associated with IT services aren't trivial, so it's only natural that clients want to know what you're doing for them. Transparency is critical to building trust and creating a culture of openness with your customers. Be prepared to show them the types of reports and platforms in your stack list that speak to enhancing transparency to make the client have eyes on what they're paying for, 24/7.
Which is exactly what CloudRadial is here to do.
3. What does your onboarding process look like?
Prospects (and clients) want to know how much of a pain it's going to be to engage with your services. That's especially true if they're coming from an existing MSP relationship.
It's one thing to take the "trust" approach with the client, where you simply promise and verbally reassure them that it's streamlined and straightforward. But it's another thing (and a much better thing) to show them what the process looks like.
With CloudRadial, for example, you can walk them through every step of your onboarding – from the place that they'll see/submit tickets to their invoices and agreements. You're removing the trust element completely and showing them a clear-cut path to your onboarding. Even before they officially become a customer, you can also have them trial the portal experience as needed.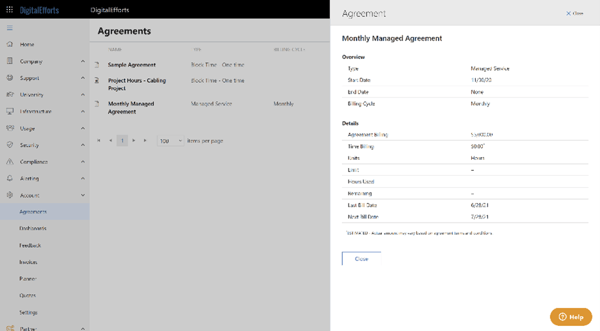 4. How do I get in touch with you outside of business hours?
When most people think of IT services, their mind tends to gravitate around support services. Even though it often includes infrastructure improvement projects, IT consulting, security, backup, and much more – the poster child is support. So, make sure to make support available as often as possible.
Depending on your MSP, you may have a service that includes on-site visits and an emergency helpdesk. But for the sake of keeping your team sane (and to make your business scalable), you should rely on your portal to be your repository for all manner of support – especially after-hours.
Presenting your portal as a reliable support hub sets the expectation from the beginning that it's THE place to go to get help. In CloudRadial, you can mark tickets as high priority (or give people the option to escalate them). You can show the prospect that you've always got a plan for them to get them the help they need at any hour
Plus, your team will love having all the information necessary to resolve the ticket. That's something they can only get if they have granular control over the questions asked in the ticket forms.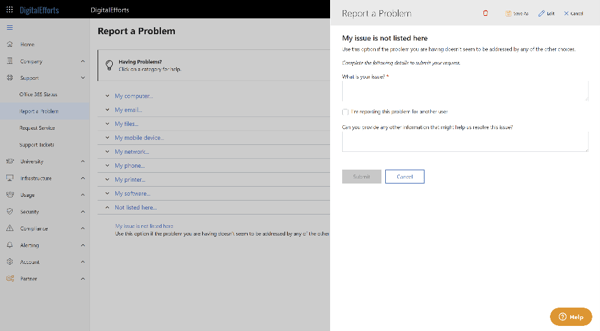 5. How can you ensure we are a part of the IT discussion?
Savvy prospective customers will want their seat at the table when discussing their own IT roadmap. Many MSPs have met clients that seemingly want nothing to do with IT ("I'm paying you to take care of it so I don't have to").
However, that mentality can quickly come back to bite you.
The easy path would be to take the client up on the "no explanation" approach, but it can cause resentment/confusion later. Eventually, some clients want to know what's been going on and there's a good chance that they'll be surprised and potentially disgruntled at what they see (even if it's the right stuff). Setting the expectation that the IT efforts are a joint effort is a much better way to go.
With CloudRadial, you can ensure that your transparency is always there and that you're always making the discussion open-ended.
6. What's the ROI of this partnership?
One of the most challenging questions for ANY business partnership is that of the return on interest (ROI) – aka, does it make financial sense to go with you for my business needs?
It's difficult to calculate these figures for a prospective customer off the bat. Still, you can show them how you will calculate it during the ongoing relationship – that is, during business reviews.
Thanks to the planner (mentioned in question one), you have a simple and legible way to track and discuss client efforts, costs, and effectiveness.
Referencing the planner as a part of a strategic discussion gives you a tangible way to showcase efforts and their results (as well as their costs). That's huge for ROI discussions that make clear-cut sense to all parties involved.
Furthermore, you can even pull official PDF reports from your portal – if you use CloudRadial – to use for presentations as needed.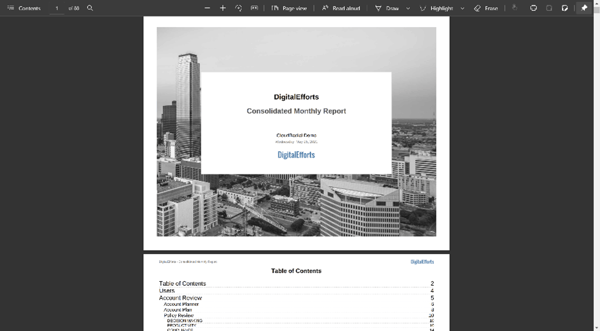 Make Prospect Presentations Easy with CloudRadial
Thanks for sticking with us as we covered six of the most common questions asked by prospective customers looking for new MSP business. Ensuring that you've got your bases covered on the fundamentals will put you far ahead of the competition.
Get yourself a trial of CloudRadial now and see how it can help you make your prospect discussions easier than ever before.