Some of the most essential functions that can help to solidify your portal as a must-use among your clients (specifically, administrative users) are the administrative features. That includes giving your clients access to their invoices, quotes, agreements and more – all within one portal.
These functions go beyond their face value of usefulness and improve your overall client experience when managed well.
Let's look at how to establish and manage these connections within the portal – and how you can handle situations where the connections aren't automatically made for you.
Establishing Your Administrative Connections
It's extremely easy to establish the administrative features if you've got a supported PSA with an API connection that can push the information through to the CloudRadial portal.
In most cases, it's plug-and-play. When you connect a specific company's PSA identifier to a specific CloudRadial company, the information will flow into the relevant sidebar area within that client's portal.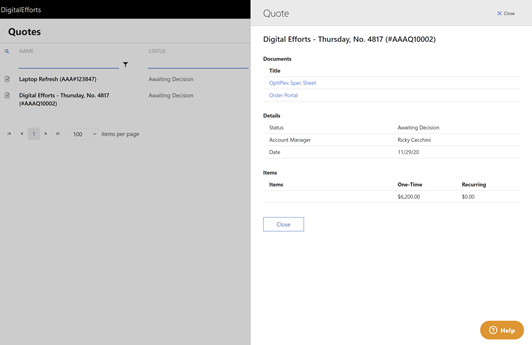 Furthermore, you can refine exactly which statuses of these items you wish to display to clients. For example, you might not want to display "rejected" quote proposals. If you're diligent about marking these appropriately in your PSA, you'll be able to manage their display with ease in CloudRadial.
Overall, having this connection makes it slick, easy and convenient for the client to see their invoices, quotes and agreements whenever they feel like it. That makes it a breeze to work with you and helps to boost your transparency tremendously. And that makes for a great client experience.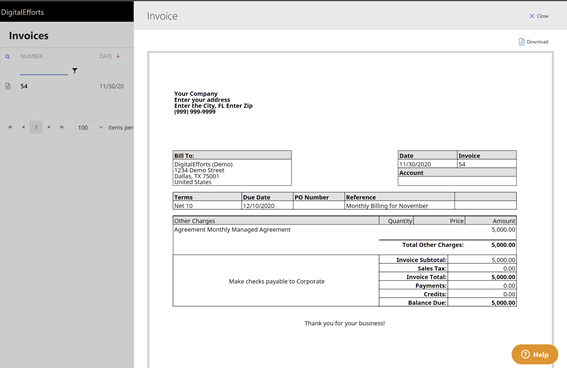 That's about as complex as it gets. Because CloudRadial is actively pulling this data from the PSA, you can always add more info (or edit existing information) and have it reflected instantly on the client-facing side.
…But what if your PSA's API doesn't support these features?
Or, what if you don't use your PSA to handle your client's administrative functions in the first place?
You're not out of luck. There are still two other methods to bypass a direct connection that can work just as well for your overall client experience.
Method #1: Get Clever with the Report Archives
As the name suggests, the report archive functionality is used to store reports. In CloudRadial, these archives each come with their unique email address that you can forward reports directly to, typically from other stack software (like backup and security tools).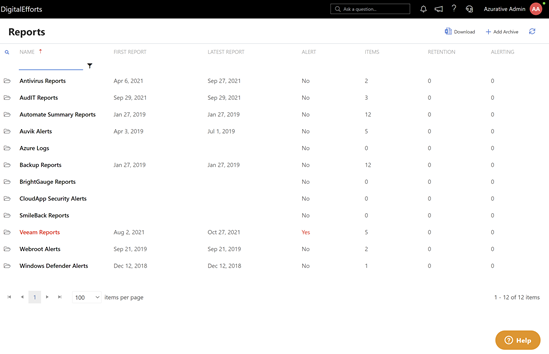 As it relates to the administrative data, you can still use this area as a repository to achieve a similar effect as the direct API connection.
Establishing a forwarding rule – or at least making a habit of adding in the data manually – can make the report archive area a viable solution to hosting the administrative data in the portal, helping you keep it the one-stop shop for clients.
Plus, the report archives have the ability to display PDFs and HTML messages in-window without the need to download them. Other file types are still supported, but they'll require the client to click them and download them from the portal to view them fully.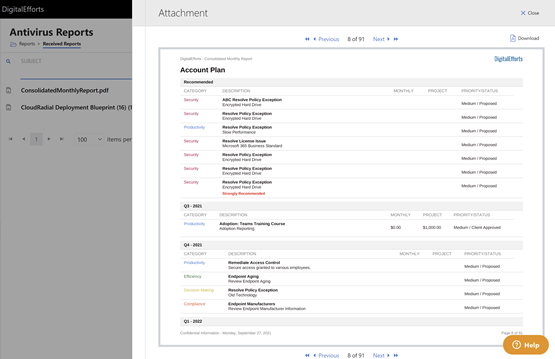 Other CloudRadial partners that have adopted this method have sometimes elected to change the name of the section from "Report Archives" to something else that is more generalized.
Want to rename your portal's sidebar tabs? Read this to find out how.
But what happens if your administrative functions can't produce reports? What if they need to be viewed within their specific area (or even a completely separate portal)?
That's when method #2 comes in handy.
Method #2: Leverage Your Application Launcher
CloudRadial's applications area allows you to create a visual link library to whatever tools and sites you want – commonly, it's used to link off to things like Microsoft Office tools and line of business apps.
Remember that the primary goal here is a cohesive client experience.
Not all tools will ideally work together, but that shouldn't stop you from trying to make the process as smooth as possible for your clients. Creating quick links to your admin portals (ex: a billing portal) from your main customer portal is still a great way to make it feel like it's a well thought out experience.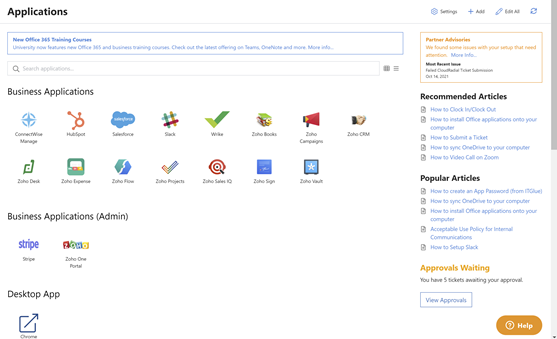 Sometimes, the thing you're linking off to will even allow itself to be framed into the portal. That lets you fully embrace the one-stop shop of the portal without ever having to leave the CloudRadial portal in the first place.
Invoices, Quotes, and Agreements in the Greater Client Experience
Managing your administrative data in a way that makes it accessible to your clients is a fantastic way to make working with you a pleasure. But remember that it's not all about the nitty-gritty of data accessibility – you need to balance it out with other features that draw people to the portal, such as:
Ticketing and a service catalog
Training and documentation
Reporting and dashboarding
Account planning and roadmapping
Each of these functions (and more) can be done within CloudRadial to make your client experience stand out from the rest. If you want to get an idea of how it can all come together, be sure to book a demo with a CloudRadial expert to have them show you the process in action.