Managed service providers (MSPs) are constantly looking for ways to innovate their service offerings.
In an ever-competitive space, the race is on to find something that offers value to clients at a reasonable price point. Rather than looking to new stack solutions for service delivery, consider CloudRadial as the answer.
Fundamentally, CloudRadial should be used as a go-between for MSPs to bring service delivery transparency to their customers while providing account managers with automations to help them do their jobs easier.
However, as a potent client portal in its own right, CloudRadial offers tons of unique features on top of the core usage that appeals to clients of all sizes (and with different needs) to pack a real punch.
Let's explore the top three ways that MSPs are using CloudRadial to increase their revenue.
Offering a Training Portal
Offering some type of training regimen is one of those things that sounds good on paper but is hard to deliver. Learning management system (LMS) platforms often cost an arm and a leg and typically exceed the need of the common companies.
From what we've seen, companies in the SMB space need a simplified training experience that can:
Offer a wide range of courses to users, from workplace safety to online security
Track completion of user courses, as well as offer reporting on these completions
Allow for the creation of courses from the company itself
Simplify the course creation process with an easy user interface
CloudRadial's University section allows for all these things and more.
Within the portal, the MSP has the power to kick off the training with a library of courses. 25+ courses come free with CloudRadial so the MSP can offer value off the bat. More courses are available from our partnership with Bigger Brains, an award-winning training content creator.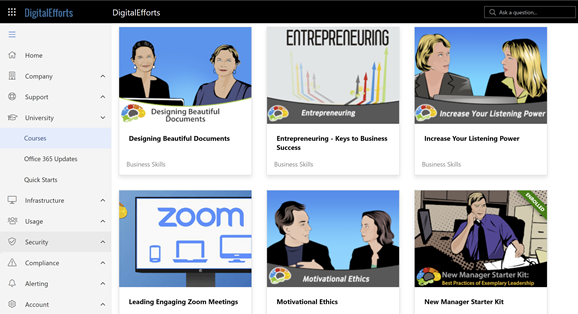 Still, the power is in the hands of the MSP and the client – both parties can freely create additional courses within the portal to take training in any direction they wish.
Doing so opens the opportunity to upsell and charge for the creation and management of courses. Alternatively, an easy way to increase revenue is to pass the costs of CloudRadial on to the client by charging them for access to the University. Because MSPs can choose which features are available to each client, it's easy to gate off the University for those that pay for it.
Offering a Company Intranet
As companies get bigger, they often develop a need for a centralized location that serves as a starting hub for their employees.
As we mentioned earlier, CloudRadial has the MSPs in mind for service delivery and account management, but it stands perfectly well by itself as a client-facing intranet on top of that, too.
In fact, offering an intranet service in the same place that the MSP can deliver QBRs and offer a ticketing portal is a no-brainer for increasing revenue while improving internal processes.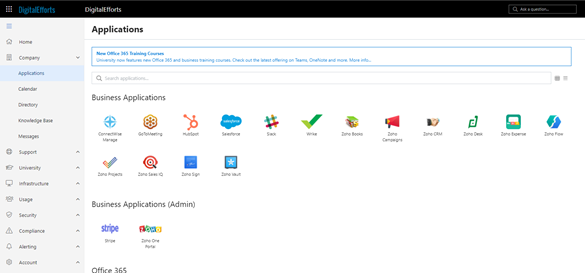 In addition to the training mentioned earlier, CloudRadial's intranet functionalities include:
An application launcher
A company directory
A company knowledge base
A shared company calendar
Message and broadcast capabilities
As far as intranet capabilities go, CloudRadial's offering is robust – and they come at a fraction of the cost of a standalone intranet solution. At worst, offering an intranet is a way for the MSP to improve efficiencies by placing their own KB articles and helpful links for the client.
At best, the client can adopt it for their own usage and customize it themselves. This improves the "stickiness" of the client – that is, the attachment to the MSP – while also reducing content management load on the MSP.
In short, that means a potential new source of revenue for little to no effort for the MSP.
Offering a Co-Managed Platform
Increasingly, we're seeing MSPs enter into co-managed IT relationships with their clients. Sometimes it's with 3rd-party vendors, and sometimes it's with internal IT teams within the client company.
In either case, the need inevitably arises for a shared platform that facilitates collaboration between the parties and the end-users themselves. Most commonly, we see this happen with a ticketing portal. Without a centralized location, end-users are left with a confusing mess of workflows.
Do they email the MSP for support? Do they call the 3rd-party? Do they walk over to the in-house IT team?
CloudRadial clears the clutter and solves all the issues in one fell swoop. In this example, the situation is easily solved with one ticketing area that has tickets pre-set to route to the correct teams. On the client-side, the users have just one interface that takes care of potentially convoluted logistics for them.

By centralizing the strategy to one key co-managed area, the MSP can come out on top as the hero that introduces client clarity to the situation.
And that's not all – CloudRadial also gives MSPs complete granular control over the branding of the customer portal to ensure that it looks great for the client, too. CloudRadial allows the MSP to either set global-level branding for all tenants or to override specific companies with the following:
Custom color theming (top title bar and sidebar color)
Custom logo
Custom currency codes
Custom date locales
Custom email and support phone numbers
Custom domains
Custom portal log-in page
Unlike the other two revenue opportunities mentioned, this strategy appeals more to C-level decision-makers and IT teams to smooth out collaboration woes. Splitting the costs (or passing them on entirely) is viable and reasonable, resulting in a better bottom line for the MSP.
A Better Revenue Stream with CloudRadial at Your Side
While we covered three of the most prominent ways to make additional revenue with CloudRadial, there are always more ways to explore and implement. Some partners choose to gate features and charge for them to be "unlocked," while others only offer the portal to premium clients as a bonus.
Check out the portal for yourself to see what it can do for you and your clients alike. The best way is to spin up a trial and poke around – and don't forget that you can always ask us for assistance along the way, too!