Welcome to CloudRadial's product spotlight on account management! Below, we will run through the major functionalities of the account management features offered within CloudRadial.
As we explore each feature, we'll keep a central theme in mind: context. CloudRadial isn't just designed to give MSP account managers the tools necessary to run meetings – it's also a repository for reporting what fuels those meetings by putting everything in a greater, holistic context.
Without further ado, let's get started.
Report Archives
Many MSPs that come to discover CloudRadial tend to want to adapt their existing reporting tools and processes to the platform rather than having to re-invent the wheel. Luckily, with our report archive feature, that's possible.
Report archives serve as folders with optional alerting triggers that an MSP can use as repositories for their reporting from 3rd-party tools. Think of security reports, backup reports, dark web scans, and more. CloudRadial may not perform those functions innately, but you still want to get credit for the work that you do for your clients!
You can either drag/drop reports into these folders on a client-by-client basis, or forward them in via each report archive's own unique email address.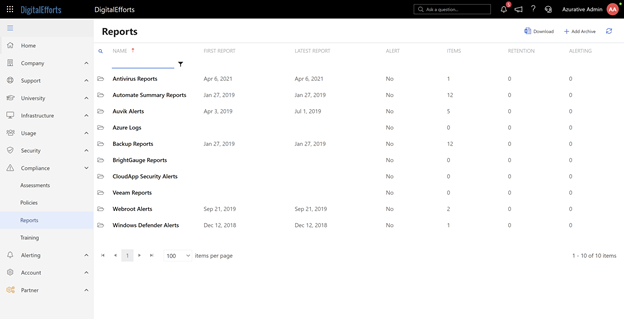 Policies
MSPs frequently struggle with presenting large volumes of technical data to their clients in a sensical way. While there are plenty of nuggets of knowledge and general insight to gain from a company's infrastructure data, it becomes tedious for both parties to parse it out.
CloudRadial's policies take the data gathered from our own data gathering agent and run them through a set of easy-to-understand rules. With a red/yellow/green report and easy-to-read explanations, account managers can quickly make sense of the data to explain their recommendations to their clients.
Assessments
There are plenty of occasions that require a human touch in account management – and assessments are just one example of them. Built within the CloudRadial portal, assessments allow account managers to build questionnaires that are optionally client-facing to showcase the type of things they're looking for in their client environments.
While they're more manual than the previously mentioned report archives and policies, they also give complete control to an account manager to build their perfect assessment. Furthermore, account managers can launch assessment questions as tickets to their PSA systems to make resolution and tracking a breeze.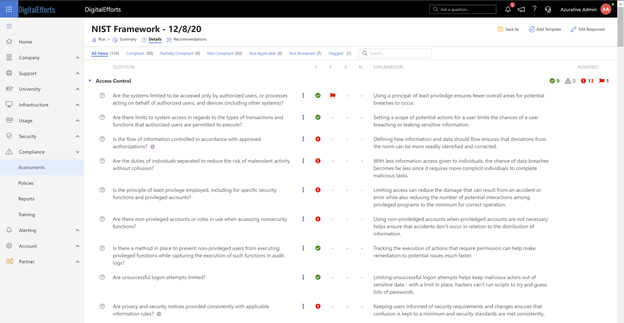 Microsoft 365 Reporting
Clients and account managers alike can appreciate automatic, no-touch Microsoft reporting that is pulled directly from a connected tenant. With 24/7 on-demand reporting, both the MSP and the client can see what matters to them in a matter of a few seconds and a few clicks.

The information gathered includes:
Specific license counts and allocations
365 Group memberships
Usage (SharePoint, Teams, Yammer, Email)
Alternate emails
Multi-factor authentication information
Tenant administrator reports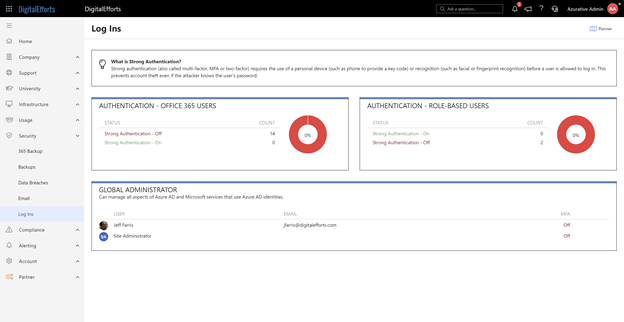 3
rd

-Party Reporting

CloudRadial is always growing its supported integrations list. When you connect a supported 3rd-party integration, you'll be able to see that information within a company. For example, if you leverage Auvik, you can see network devices under the Infrastructure tab. Use Datto backup? View that information as well within the Security tab. A list of our integrations can be found here.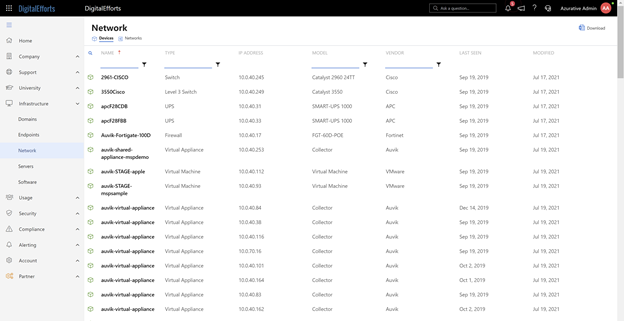 Roadmap/Planner
Amassing the data is one thing – but putting a plan together from it is the main attraction. Within CloudRadial, account managers can build a roadmap that's easy to understand and follow. Thanks to the copious amount of reporting information within the portal, account managers can quickly showcase their rationale and back their consultative decisions with evidence and context.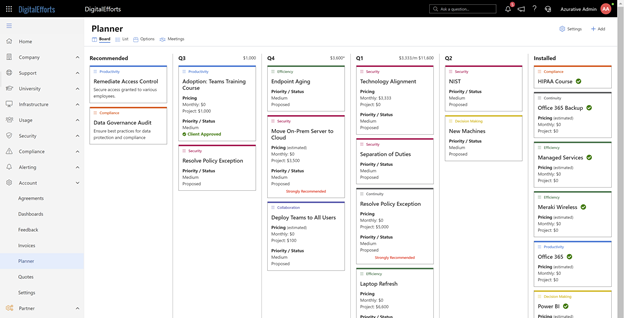 Sales Matrix
Rather than just treating each client as their entity, CloudRadial gives account managers the power to review each client's roadmap at a macro level. Account managers can quickly interpret large volumes of data from this level to discern sales and consultation strategies that benefit their clients and the MSP.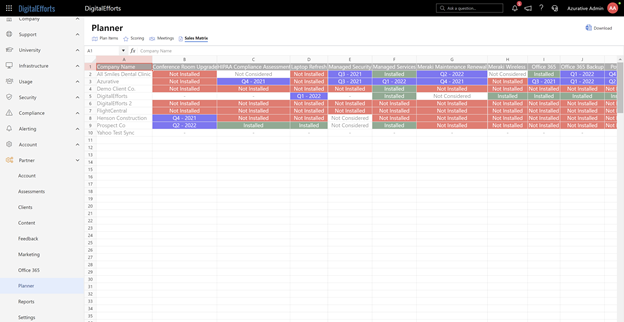 PDF Reporting
CloudRadial doesn't just exist within the online portal. Account managers can also produce physical PDF reports via a PDF report creator tool (available in-system) to bring to a physical meeting. Commonly, this is used as a time-and-date snapshot of the account. As the company grows and evolves, the account manager has an audit trail of account growth and evolution throughout set intervals.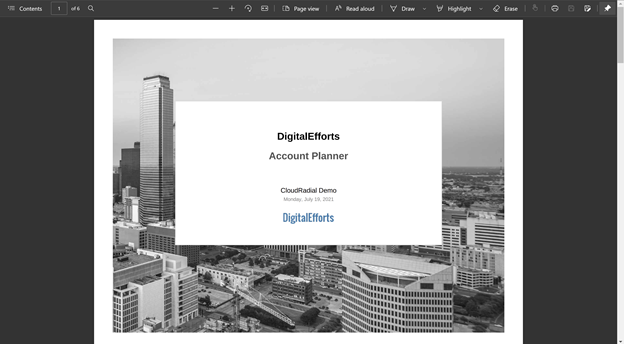 Interested in trying the account management features for yourself?
Give it a shot at any time by spinning up a trial of CloudRadial. Don't forget that you can always ask for help whenever you need it from us, too!