Welcome to CloudRadial's spotlight on co-managed IT. Below, we'll run through the features within the CloudRadial portal that show you how you can run a better co-managed IT environment with your clients.
Let's go!
Application Launcher
Let's start with something simple – a client intranet.
With the explosive popularity of work-from-home environments (not necessarily by choice), businesses are seeing the need to put together company intranets that are accessible from any device and machine. These hubs need to provide a single pane of glass to help employees get to their most important common and line of business apps. That's where CloudRadial's menu applications come in handy.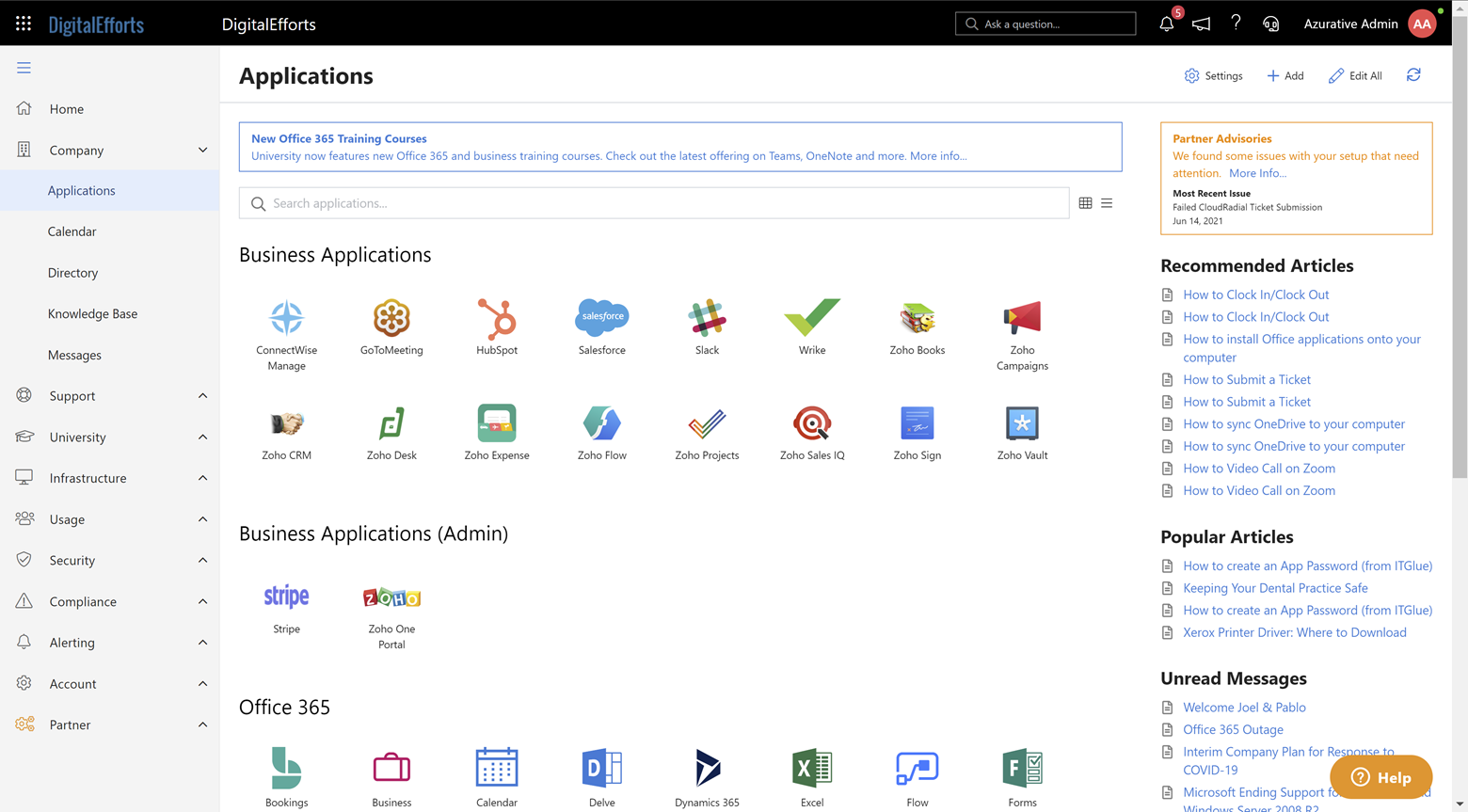 With a customizable menu app launcher, you can provide a shared space where you and the client can add apps for the organization to access. You can also set them to be visible to different permission levels, allowing you to set up admin-only apps versus ones available to everyone.
See how to customize applications here
Company Training
User training has always been important for organizations. Whether that's training on how to use a forklift, how to best use Microsoft Teams, or how to stay secure in an online workspace, it's all important. Learning Management Systems (LMS) have always been prohibitively expensive for many organizations, leaving a gap for training portals with student-by-student completion tracking that doesn't cost an arm and a leg.
Luckily, CloudRadial can come to the rescue to help you snag the co-management win.
Within your portal, you can offer clients 20+ courses of training that come with your subscription. Plus, there are 100+ additional courses available for purchase in the portal, too. Alongside these premade courses, both you and your clients can add more training of your own to the library to generate tremendous value.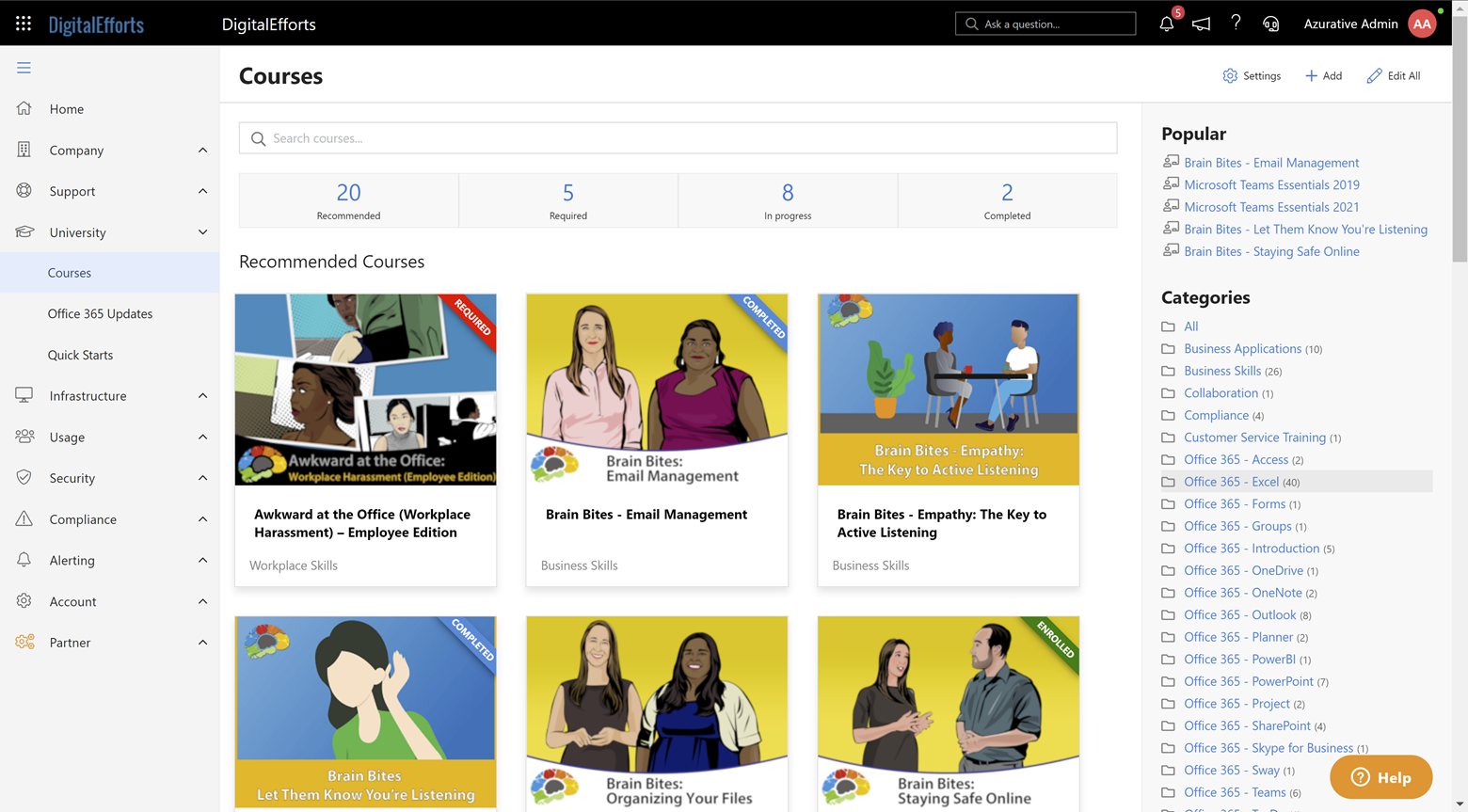 The need for shared training is highlighted best regarding security, where more and more MSPs are emphasizing a co-managed (and shared) security hygiene approach for their clients.
Shared Ticketing
A co-managed approach to ticketing means having either side of the MSP-client table take care of their part. Sometimes, that means that the MSP takes care of only certain types of tickets. Other times, it might mean simply providing the client with an area where they can log a ticket to the MSP, other vendors, or even internally to their team.
CloudRadial's Problem Report and Service Request areas can fit the bill here.
With these two areas, you can provide clients with a place to submit tickets of any type to any destination. Typically, this is through an API connection to the PSA for you – but it might mean using the portal to send tickets via email to other sources.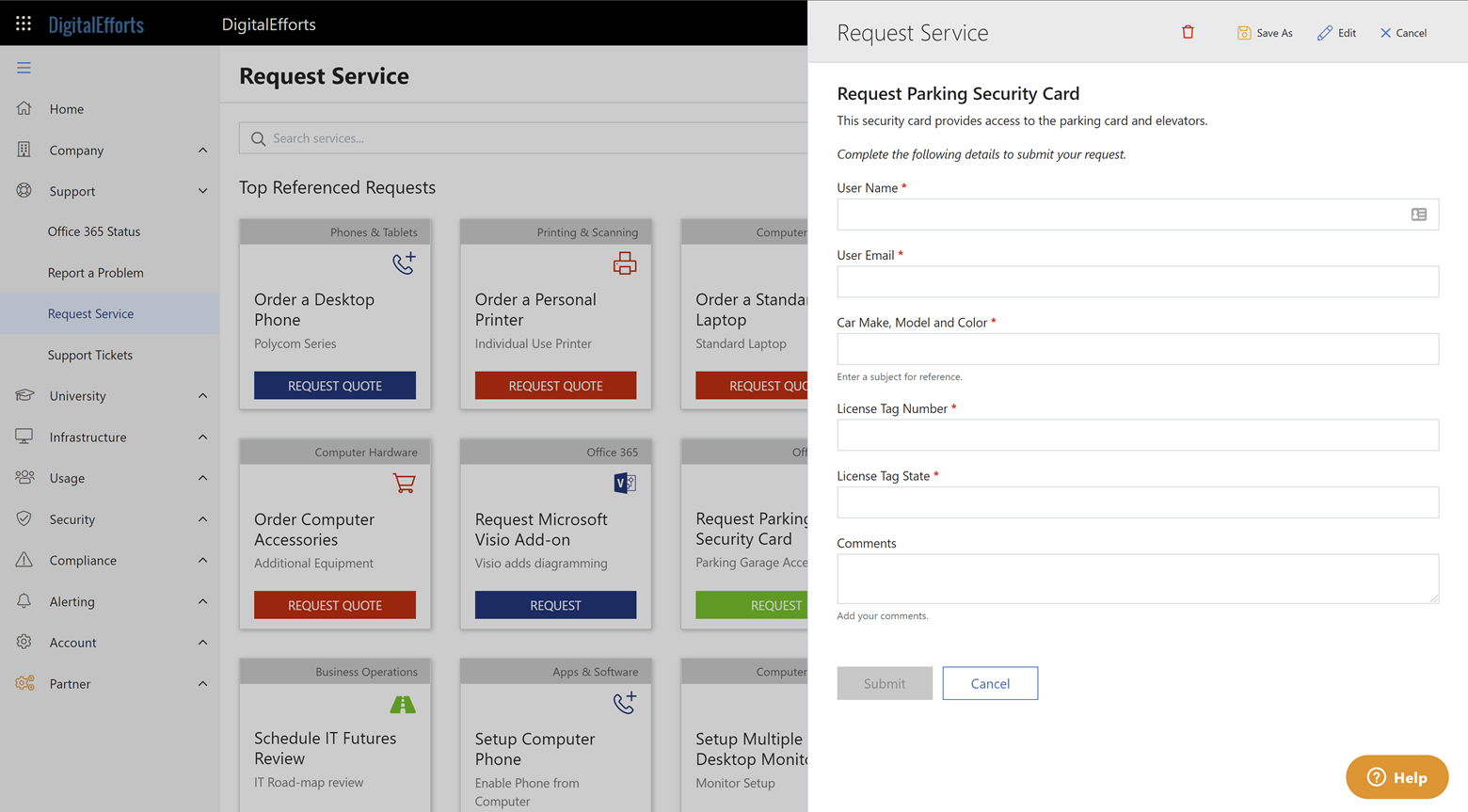 Furthermore, users can also cancel, close, and escalate tickets to the MSP from within the portal. From a co-managed perspective, that makes it a breeze to provide a singular platform that does it all to keep the user experience seamless.
Approval Process
Okay, okay – it's technically an add-on to the previous point, but absolutely worth a mention.
You can flag tickets from the portal needing approval so that they get triggered in certain workflows, as defined by your PSA. While it's not available for simple tickets sent via email, it still has plenty of applications for co-managed cases.
For example, clients use it as a first line of defense for their own teams. Like so:
A client submits a ticket requiring approval
It goes to the internal IT team at the client's side

If approved, it goes on to the MSP to resolve
If denied, the internal team member handles it
You can also use these as their originally intended case – to ask certain people to approve the ticket, particularly for provisioning and ordering hardware. In either case, approval workflows make for a super helpful feature that adds to the co-managed strategy as a whole.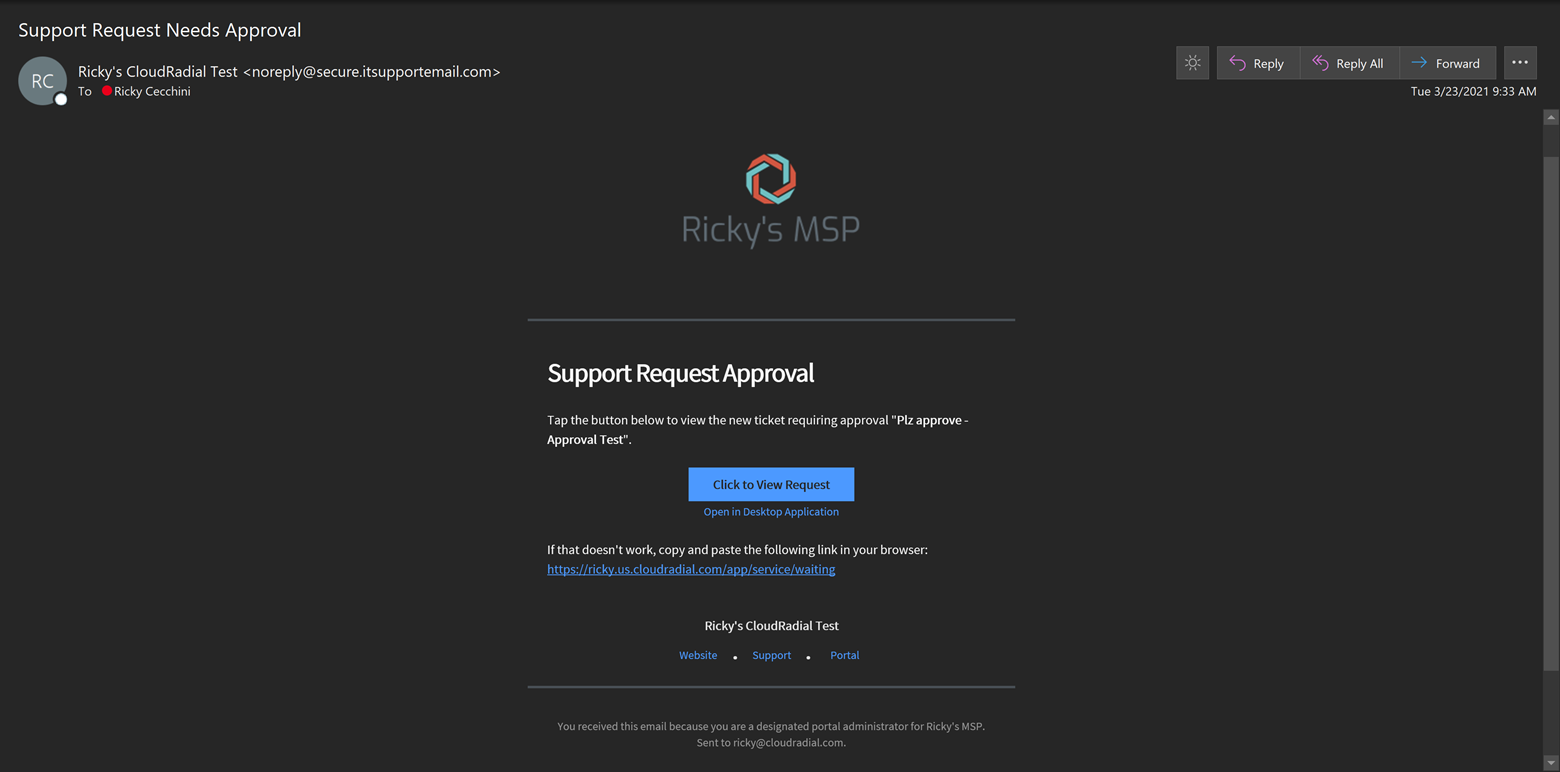 Client-Specific Branding
Clients feel a stronger connection to the IT relationship when they feel more of themselves in it. CloudRadial allows you to set customer-specific branding to help build that sense of trust and customization for your clients.
Within the portal, you can customize the following on a client-by-client basis:
Customer name
Log in/splash page
Currency codes
Date localizations
Portal theming (title and sidebar colors)
Timezones
Custom domain
Of course, you don't have to do so – you can also set global branding for yourself. But it's always nice to have the option!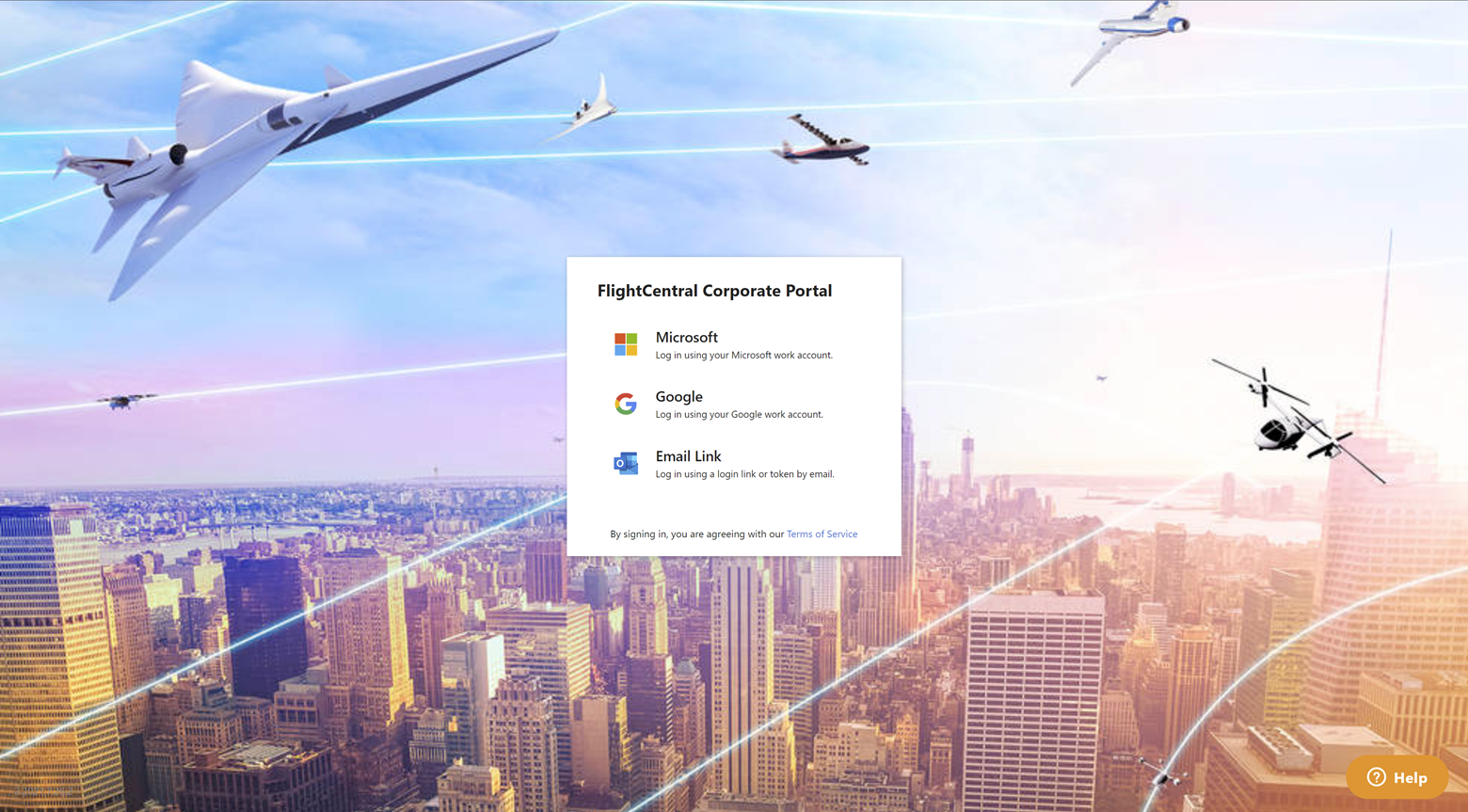 IT Roadmapping
Many MSPs use the business review experience (commonly called the QBR, TBR, etc.) for a few reasons. For starters, it's helpful to check on the state of the relationship with the client. It's also a great way to (potentially) upsell other services that you might not get to talk about on a day-to-day basis.
CloudRadial aims eliminate the need to do either of those things since the client can see whatever they want, 24/7. So, where does that leave us in terms of the reviews?
It leaves us with a BIG opportunity here is to invite the client themselves to deliver their input in the direction of the IT management.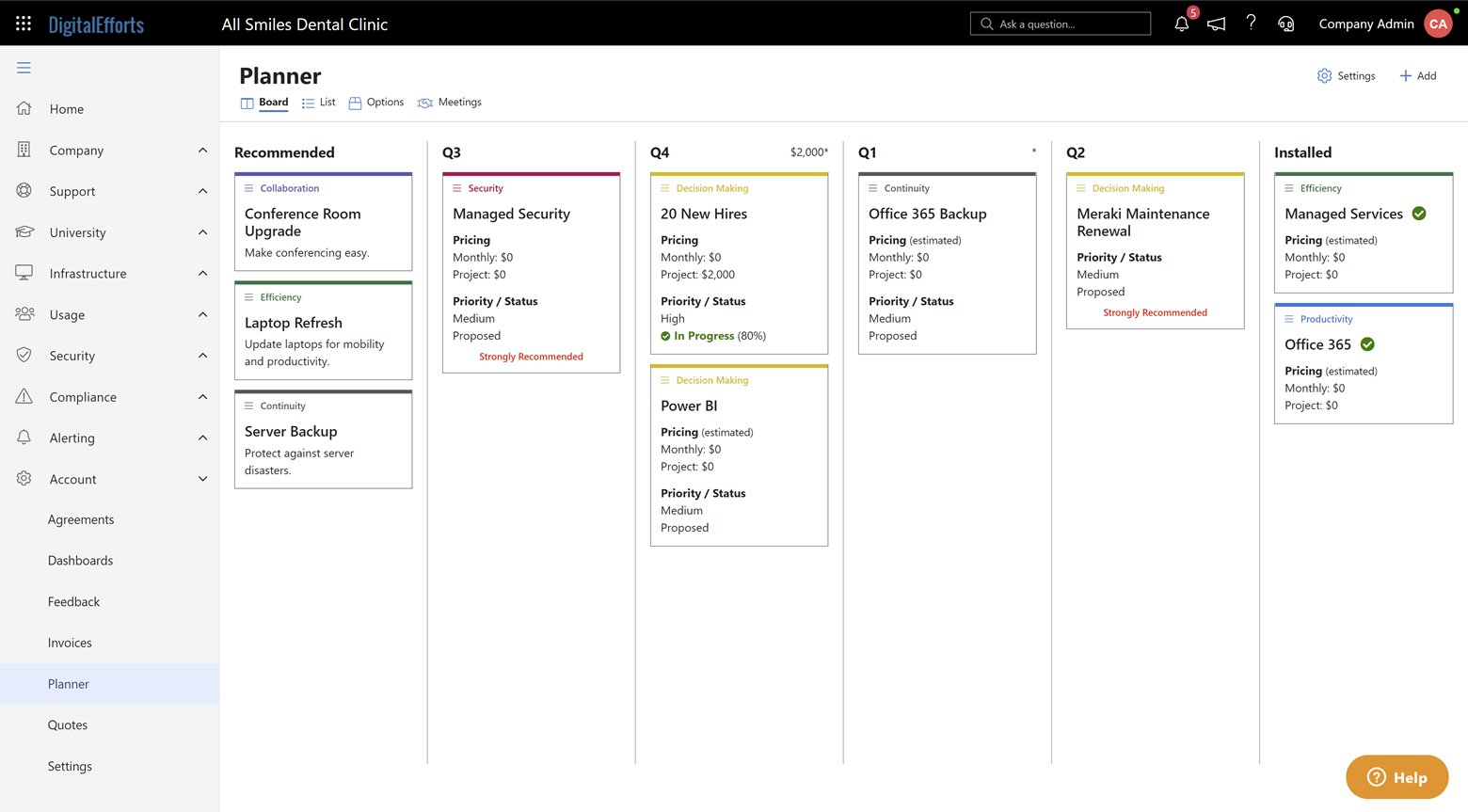 Within CloudRadial, you can use the planner for a simple, no-nonsense way to share your roadmap intentions while giving the client the ability to add to the plan. In addition, they can also add their own initiatives to it – when it comes time for review, it's less a lecture and more a discussion (as it should be).
Customizable Deployment
Lastly, the best part of a co-managed strategy is flexibility.
Some of the things discussed here may apply to some clients, some may apply to all, and some may apply to none. CloudRadial allows you to turn features on and off so that you can keep your portal as relevant and tailor-made as possible for each unique customer.
Interested in trying the co-managed features of CloudRadial?
Give us a shot at any time by spinning up a trial of CloudRadial. Don't forget that you can always ask for help whenever you need it from us, too!