Software-as-a-service (SaaS) is taking over the world.
Today, it's less and less about computer hardware and programs installed on a physical computer and more about what sites and services people are using. We've recently opened up an integration with the clever folks over at Augmentt, giving us the ability to pull in rich SaaS data directly inside the portal.
Let's examine the reasons that you should include SaaS reporting directly into your client portal, as well as the benefits it can have for both you and your customers.
1. It increases overall transparency
At CloudRadial, we're all about giving people transparency.
We've discussed in great depth about transparency into infrastructure details, compliance status, tickets, and more. All these things help explain the greater state of the IT infrastructure, which helps drive informed business decisions.
Related: Learn CloudRadial's Philosophy on Transparency
But SaaS monitoring is different – this isn't something that requires the managed service provider (MSP) to give an explanation or context. And sometimes, the results of the SaaS monitoring aren't even something actionable for the MSP to act on.
In that sense, this is a case of true client empowerment.
Giving an organization the ability to view their own SaaS usage, with detailed reporting, from within their portal gives them a window into the actual day-to-day operations of their staff.
The result? Something they can manage on their own, whenever they feel like, right from their portal.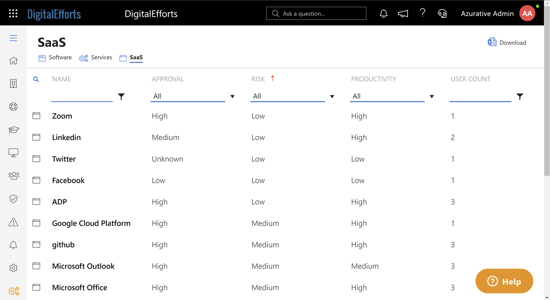 Overall, this client empowerment results in them coming back to the portal day after day.
2. It helps with security
Security is a shared effort between the MSP and the client.
It's relatively easy for the MSP to prove that they're doing their part to secure the client. After all, they have live data and reporting from their various tools. With CloudRadial, it's also easy to share that information using features such as the report archives to make these mutually accessible at any given time.
But how can you shine a light on the client's security responsibilities?
SaaS monitoring helps you to pinpoint risky activities down to the user that exhibited them. Real examples of security threats to an organization that you can display include:
Visits to nefarious sites
Visits to non-sanctioned backup applications
Visits to SaaS applications out of compliance with organization rules
Gaining visibility on these security risks might point to specific users as genuine nefarious actors, but it might also simply pose an opportunity for training and behavior correction.

In either case, letting the client see the security risks and SaaS sprawl among an organization is critical to giving them a full scope of shared security responsibilities (and some additional revenue opportunities for the MSP, too).
And speaking of additional revenue…
3. It's something clients want to pay for
MSPs are stuck in a vicious cycle. Every year, new threats and changes to business operations emerge.
As a result, MSPs need more tools and processes to do their job properly – like security tools, backup tools, Office management tools, and much more. Only one thing is guaranteed:
The seat cost for users will go up. So, the question is, who's going to be the one to pay more?
Does the MSP eat the costs, or do they pass it on to their clients?
Logically, it would be the clients. After all, they're the ones getting more services and security. But the challenge is justifying a price increase when it doesn't look like anything to the client in the first place.
To them, they're just as secure and efficient as they were last year. They have little to no clue what work the MSP does behind the scenes to keep the technology flowing.
But that's where SaaS monitoring is different.
SaaS monitoring is a rare breed of service that pays for itself and even makes money on top of that.
Why? Because it's tangible, visible, and self-evident.
It's one of the most organically valuable things that MSPs can provide for clients. At CloudRadial, our entire purpose is to contextualize MSP tools and processes and turn them into a client-friendly format that the client can consume on their own time. We're here to ensure that you get credit for all things that happen behind the scenes by putting them front and center.
Partnering with Augmentt to provide SaaS monitoring in the portal makes it much easier to raise prices and have something tangible to show for it. Plus, clients won't soon abandon additional visibility and control in their company. That additional "stickiness" is a killer revenue retainer.
Augmentt and CloudRadial: Better Together
Augmentt helps to introduce the invaluable SaaS monitoring and management function to your MSP.
CloudRadial helps to make that SaaS monitoring readily available to your clients, 24/7, alongside all your other services and solutions.
Put them together and you've got a client strategy that will improve your transparency, security, and profit margins through an improved client experience.
You can get started with Augmentt by getting a free trial of it here.
Similarly, if you want to give CloudRadial a shot, you can grab a free trial of it from this link.