Welcome to CloudRadial's product spotlight on ticketing! Below, we'll run through the major functionalities of the ticketing portal offered within CloudRadial.
Note that the ticketing portal within CloudRadial is best used when connected to a supported PSA tool, though it can also work as a standalone email-based solution.
Let's dive in!
Customizable ticketing forms
First up, what most people want in their ticketing portal – the ability to customize their forms. CloudRadial's form builder allows you to build anything from a few questions and single-line fields to multi-tab, multi-question and conditionally prompted flows. Furthermore, you have the ability to choose what becomes the subject of the ticket for even easier visibility back in the PSA.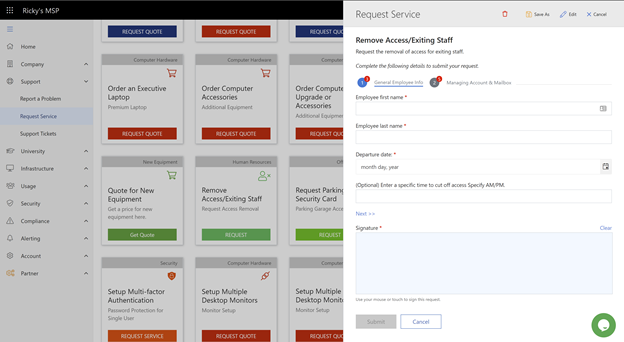 Confirmation messages
With confirmation messages, you can ensure that your customers never miss out on important steps after the ticket is submitted. Anything from a simple "thank you" to the more advanced follow-up appointment scheduling is fair play here. You can even use this area to leverage self-help material to get people the help they need faster and easier than ever before.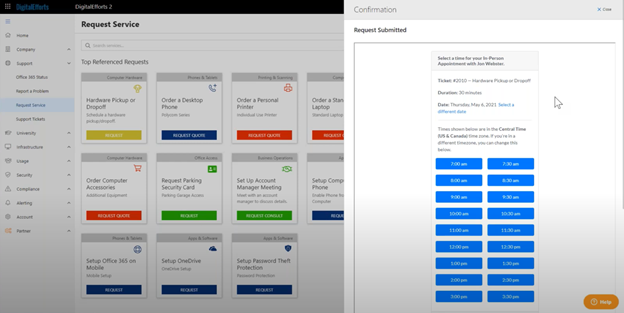 Detailed routing options
Tickets have to go somewhere – and with CloudRadial, you can point them to the exact place they need to go. Depending on your connected PSA, you may see different options. However, you'll generally have the ability to select a board/queue, status, priority, and much more with each ticket.
Furthermore, you'll also have the ability to set up alert triggers to webhooks on Slack and Teams. For more advanced use cases, you can also trigger some killer automation with JSON and Power Automate flows. Email-based connections are always welcome, too – you can set up the ticket to head straight to any email address that you want.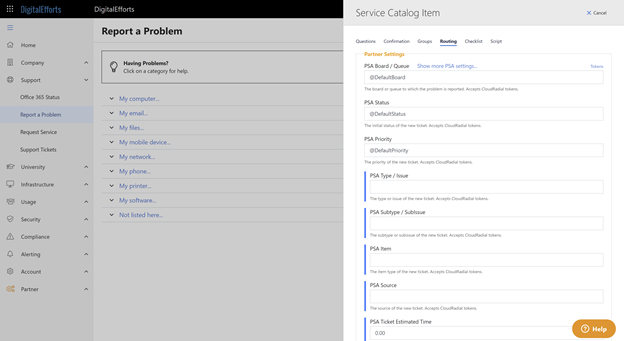 Approval workflows
Want to make approvals easier than ever before? We've got you there, too.
CloudRadial can take your tickets marked for approval and put them into a workflow that is clean, easy to understand and functional. Users marked as approvers will be prompted to approve tickets via a branded email. The approval process is based on your existing statuses within the PSA – just set it and forget it. How much easier can it get?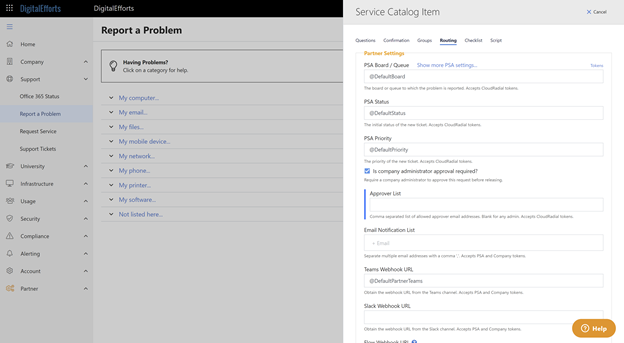 Checklist functionality
The benefit of submitting tickets from a portal is that you already know the nature of the ticket, so you've got a way to streamline and optimize the resources on your end to resolve it. With the checklist functionality, you can make it so a list of to-do tasks comes into your PSA. Now, you can ensure that your senior-most and junior-most tech are at the same productivity levels (which helps you scale!)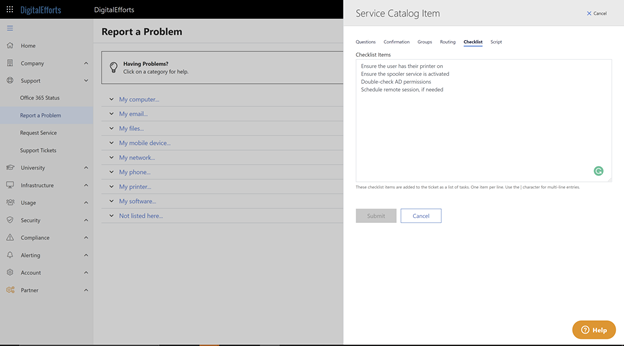 PowerShell script creation
Pack a potent punch with PowerShell, right from CloudRadial. Automation experts will love the ability to create scripts generated from variables pulled right from the ticket and user information itself. While CloudRadial doesn't execute the script on your behalf, it'll still attach it to the ticket upon submission.
It's as easy as create, deploy, and enjoy – enjoy more free time, that is.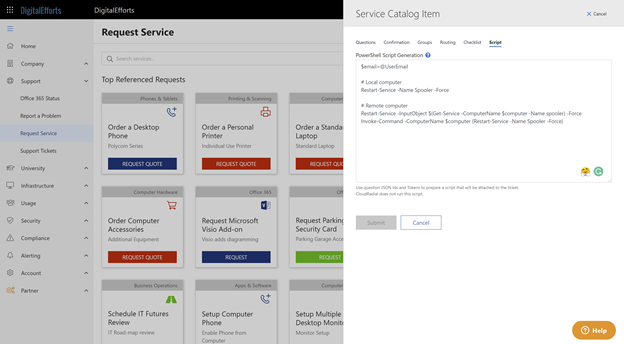 Ticket history display
Users will love being able to see their tickets, both open and closed, from within the portal. Administrators of companies will see all tickets for the organization, whereas lower-level users only see their own. If you like, they can also close, cancel, and comment on tickets right from the portal.
Thanks to the connection to the PSA tool, CloudRadial can serve as a convenient window for them to communicate with the IT team and check on progress.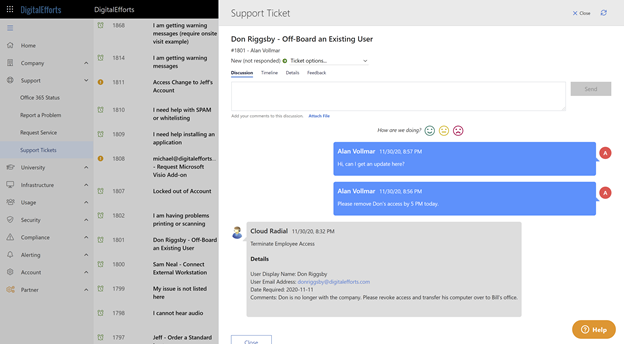 Built-in customer satisfaction (CSAT)
Make it easy for your customers to share their feedback with your team by leveraging CloudRadial's built-in CSAT tool. Right from the ticket, users can select between happy, neutral, and unhappy responses along with dialogue to expand on their selection and a way to ask to be contacted back.
The CSAT functionality is tracked within CloudRadial for reports in dashboards and PDFs, too. It can even be used within your existing service emails from your PSA with some simple HTML code.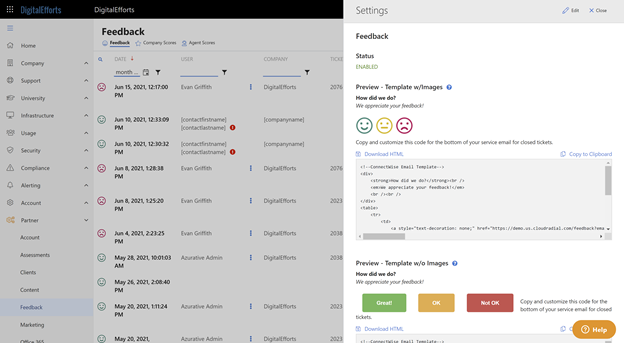 Interested in trying the ticketing portal for yourself?
Give it a shot at any time by spinning up a trial of CloudRadial. Don't forget that you can always ask for help whenever you need it from us, too!