Customer surveys help your MSP (Managed Service Provider) provide a controlled, flexible, and responsive way to get customer satisfaction (CSAT) feedback from your clients. Looking at the data you get from the CSAT scores helps you make macro-level business decisions about client relationships, product insight, marketing, and more.
What about having CSAT functionality directly within your portal, where your clients interact with you?
Well, that's an easy decision.
Let's look at the CSAT functionality within CloudRadial and how to use it effectively.
Examining feedback functionality
CloudRadial's CSAT leverages some data from the PSA (Professional Service Automation) tool to report on feedback attribution on several levels. To access this data, start by navigating to Partner > Feedback from the left-hand menus.
There, you'll see three tabs for Feedback, Company Scores, and Agent Scores. As you gather feedback, you'll see scores across all customers, companies, and even for individual technicians.

To enable the feedback in the first place, you can use the Settings gear at the top-right to open the visual template preview panel and then select Edit.
Use the Feedback enabled? checkbox to enable the system.

What does the CSAT look like within CloudRadial?
If enabled, the feedback will immediately appear within tickets visible inside the CloudRadial user interface.
Selecting a specific ticket within Support > Support Tickets will prompt a dialog with the smiley faces, as seen in the screenshot below.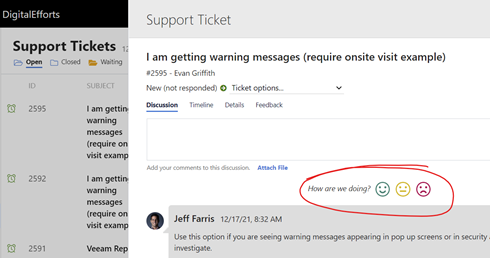 Selecting any one of the faces will record the feedback and further prompt the user to submit feedback on the feedback and an option to flag the ticket as needing additional follow-up.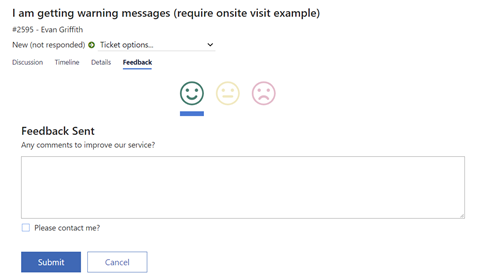 The feedback will be recorded back into the Partner > Feedback area and a few distinct locations inside the customer-facing portal. Keep reading – later in this article, we will learn how to manage and use these various areas for automated feedback reporting.
For now, let's turn our attention to customizing what happens when a customer gives feedback.
Previewing image templates
A CSAT strategy isn't complete if it just lives in the portal. It also needs to live in the PSA and people's inboxes so that you can capture it organically.
In Partner > Feedback, use the Settings gear to open the image template preview section.
The initial section previews 2 different HTML templates that you can use inside your response emails.
Typically, these emails will come from a PSA system. Your HTML code will differ based on the supported PSA you have connected to CloudRadial – so be sure to connect your PSA first before this.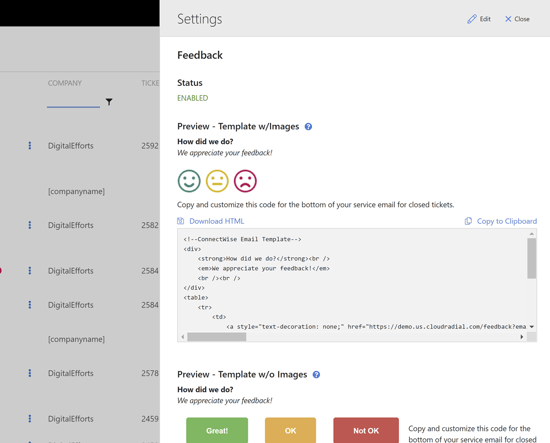 The first template is visual. It uses images for the smiley faces. While these are more visual and appealing, images generally tend to get blocked by many email tools as a security measure.


The second template offers the same technical functionality but changes the images for HTML color blocks that load irrespective of image security preferences.
Remember that you can always get help applying these templates to your PSA's response emails.
Understanding feedback actions
Examining feedback actions helps you to expand the CSAT's capabilities to trigger workflows and other process preferences on your end. Let's examine what they do: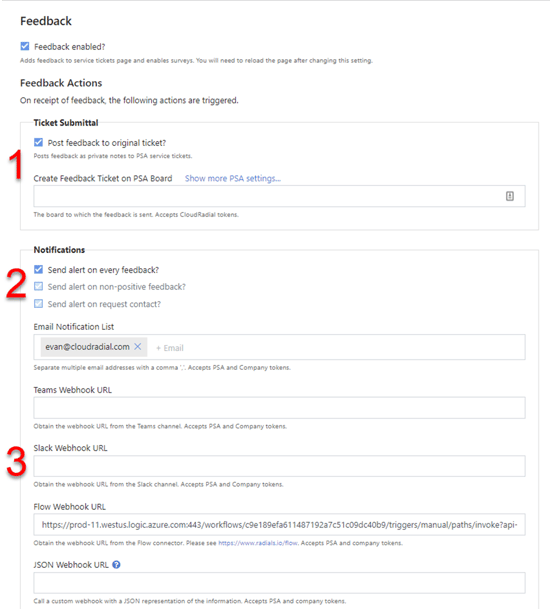 Ticket Submittal options help you decide if the feedback received is posted to the original ticket in the PSA (location may vary on specific PSA – in ConnectWise, it's in the private notes).

Alternatively, you can select the CSAT to open a new ticket on a separate CSAT board to avoid clutter and improve visibility.


Ticket Notifications help you control if (and when) you get alerts from new feedback.

You can choose to receive it every time or simply for non-positive ones so that you can correct any issues before they become lingering problems. You can also choose to have these go to a specific email address, if necessary.


Webhooks help you further refine where you'd like to be notified about CSAT results. Using JSON and Flow (Power Automate) hooks, you can also trigger automation in various systems to your liking – making the CSAT functionality potentially even more valuable.
Lastly, there is another section not pictured in the CSAT settings – the Positive Review Prompts.

Prompting users to leave a Facebook or Google review after a positive submission further improves CSAT usefulness. Rather than having the feedback live in a "closed loop" system on your end, these two options help improve search engine optimization (SEO) results.
Need a primer on SEO? Check out this Moz article.
Improving SEO will help make you more easily found on major search engines (such as Google, Bing, and essentially all others).
Reporting on feedback to the customers
Once you've enabled the capture of feedback and have set your notification preferences, you can start to report on the feedback to your customers. The two areas for reporting are:
Dashboards
The direct feedback feed
Both options give the customer autonomy to see the CSAT results for themselves at any point without having to wait for a formal review or reporting period.
Using dashboards for feedback reporting
CloudRadial's dashboards can be used for reporting across tons of different data. One of the stock dashboards that CloudRadial comes with is for feedback. This dashboard uses the same data captured in the steps listed above and transforms it into a visual, multi-gauge system for easier viewing.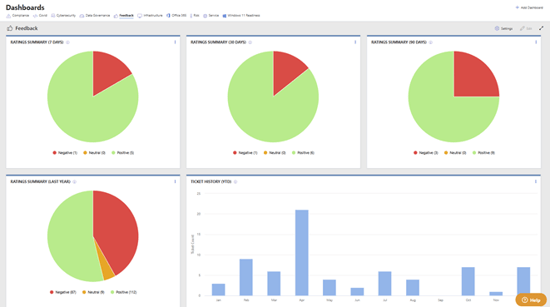 Visualizing data like this can help you to explain CSAT trends and show correlations between real-life events and CSAT results. Remember that you can dive deeper on the feedback by selecting the information symbol next to each widget's name.
Need a primer on how to create and manage dashboards? Get a summary here.
Using the direct feedback feed
Alternatively (or in conjunction with dashboards), you can turn to Account > Feedback to view all company-specific feedback results.
This view shows all feedback linked to their respective tickets. It also shows any comments made on feedback within a single pane of glass. In practice, this is extremely helpful in reviewing data and determining if there is a repeat problem (either a recurring issue or simply a disgruntled employee).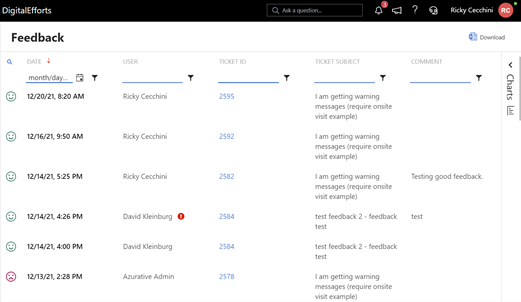 Feedback integrations
CloudRadial's CSAT is completely standalone, aside from the PSA for data to tie back information. Many MSP Partners purchase CloudRadial with existing feedback systems.
The question they inevitably as they join is, "Do I get rid of my CSAT for the one in CloudRadial or do I continue to use my own?".
Ultimately, remember that the choice is your own. CloudRadial's CSAT was intended to handle the basics of capturing feedback surveys from customers, but it doesn't have the full power of a dedicated CSAT tool.
At the time of writing this article, there is an existing integration currently with SmileBack. This integration allows for the best of both worlds, in that feedback from both systems flows to and from each other. For instructions on how to set this up, check out this documentation.
View our Better Together webinar with SmileBack on how to capitalize on customer feedback.
Trying CSAT for yourself
Putting a straightforward way to share client comments in the portal can be an extremely effective way to ensure you get more reviews. And, of course, it's a terrific strategy to help you stay on top of your client satisfaction.
Want to give it a shot for yourself? Spin up a trial of CloudRadial or grab a demo.